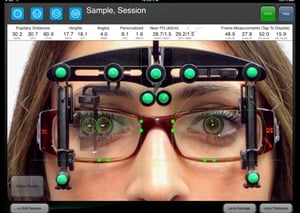 Spectangle PRO is a new tool that enhances your eyewear selection process, helping you bring state of the art technology to your examinations and wowing your customers. The tool quickly and accurately captures advanced optical measurements in one front-facing image while also assisting with lens education and frame selection.
Spectangle PRO includes four main modules:
The Measurement Module - Specializes in capturing accurate optical eyewear measurements for progressive lens users.

The Lens Selection Module - Helps educate patients by showing different lens features and coatings in action.

The Frame Selection Module - Shows lenses in comparative photos to help your patients find their perfect pair.

The Augmented Reality Module - Test drive lens features around your office with this module.
Schedule a demo and bring new technology into your eyewear selection process.