Taking the Strain
This study evaluates whether the use of spectacle lenses with accommodative and blue light filter reduce the symptoms of digital eye strain.
About the study:
31 healthy volunteers
Aged between 21 and 40 years
Wore spectacles more than 6 months prior
Spent 2 or more hours per day using digital devices
Digital Eye Strain Patient Fact Sheet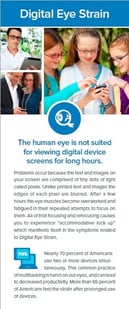 Your patients are feeling eye strain symptoms and may not even know it. This fact sheet provides information from The Vision Council to help your patients understand why they feel the way they do.
Use this sheet to start a conversation about digital eye strain and the benefits of computer glasses.
Fill out the form to access both digital eye strain assets!